Quality Policy
Accord Inducto Cast supplies best quality of Cast Iron Casting (CI Casting), Grey Iron Casting, sg iron casting, ductile iron casting, MS Steel Casting in India, Gujarat, Rajkot…
Quality
Policy
With the cooperation, assistance and instructions of our large expert and knowledge pool group, Accord Inducto Cast led to strong sustained growth.
Accord Inducto Cast has earned its name in the field of Grey Cast Iron, SG Iron Casting, Ductile Iron Casting & Alloy Cast Iron Castings, having supplied to a large number of industrial houses across the country & overseas.
We supplier superior grade of all kinds of casting required for any industries such as automobile casting, machine tool casting, machinery casting, pump parts casting, valves casting, pipe fitting casting, elevator parts casting, marine parts casting, crank casting, etc. We also gives due waitage to Safety, Human Resource Development, etc.
Our
Mission
Company's mission is a simple one: We strive to supply our customers superior & reliable casting at competitive prices. Accord Inducto Cast hold sound command with its great progress in the Casting Industry with special emphasis on quality.
Our
Infrastructure
The Company has two melting furnaces of 300 Kgs & 500 Kgs.

Other facilities comprise 400 KVa Power Supply from GEB/PGVCL, DG Generator Sets, Air Compressors, Fully equipped testing lab for metal testing, chemical composition check, temperature check, etc., online measuring meters for CEQ & temperatures.
Casting Supplier
Certificate
Group of Companies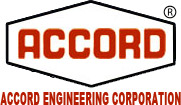 Address: "ACCORD" Plot No.5, Survey No.45, Nr.Bharat Nagar, Vavdi, Rajkot-360 004, | T:+91-281-2365233, 2365244 M:+91-9998844445