Casting Facilities
Accord Inducto Cast is leading foundry unit in Rajkot. Leading manufacturer & supplier of CI Casting, SG Iron Casting, MS Iron Casting, Ductile Iron Casting in India, Gujarat…
Casting
Facilities
Molding Facility
Hand molding for big castings in Nobake and CO2 molding in Green Sand Process
Core Making Facility
Various core making processes ranging up to requirement per core.
Sodium silicate process
Facilities (Plant & Machinery) Melting Shop
Pouring Trolley with ladle 4 Nos.
Cupola Furnace 27'' Diameter
Cupola Furnace 21'' Diameter
Cupola Ffurnace 15'' Diameter
Induction Furnace
500 Kgs. & 300 Kgs. each
Molding Shop
Molding Machines – 2 Nos.
Sand Muller & Mixture – 2 Nos.
Various Hand molding Boxes:
Core Boxes.0 to 1500 mm capacity
Casting capacity in kgs.
100 gms to 5000 kgs. Present capacity: 200 MT per month and can be increased as per customers requirement. .
Metal Cast Range
All grades of Cast Iron Castings.
Testing and Inspection
Material testing facilities available with NSIC Rajkot and also private labs. Hardness Testers, Surface Plates, Crack Detractions, Combination Sets, Bore Gauges from 10to 150mm, Height Gauge, Between Centers, Magnetic V-Block, Vanier, Micrometers, Plug Gauges, Snap Gauges, Radius Gauge etc. are available with us, more over we are ready to establish instrument Which are required to inspect -according to product.
Heat Treatment
Well established facilities like Induction Heat Treatment, Carburizing, and Cash Hardening etc are available very near to us.
Casting Supplier
Casting Facilities
Group of Companies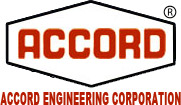 Address: "ACCORD" Plot No.5, Survey No.45, Nr.Bharat Nagar, Vavdi, Rajkot-360 004, | T:+91-281-2365233, 2365244 M:+91-9998844445